Juteborg made breakthrough in 2016 by developing three different jute based composite materials applicable in most of the industries which are: co-mingled felt of jute fibre and polypropylene 50:50, compression moulded; Unidirected fabric laminate jute fibre and polyester 60:40 for vacuum infusion and JutePP® Jute fibre reinforced plastic granule 35/50-65/50 for mould injection and 3D printing.
JutePP® granule is the alternative sustainable raw material for mould injection which has been successfully tested in finished plastic products with 30% to 50 % of Jute fibres and 50% to 70% virgin as well as recycled polypropylene. Most other plastics/bioplastics are suitable for the recipe to mix with Jute fibre. Depending on the requirements of the finished products and the customers JutePP® formula is customizable.
JutePP® is now going for commercial production through a Joint Venture Company established in Bangladesh. Juteborg and Razzaque Jute Industries Ltd have signed a 50:50 partnership agreement in this regard with an ambitious Code of Conduct and Code of Ethics.
Juteborg has secured a Letter of Intent with one of the biggest international fashion companies in the world who would like to produce 40 million cloth hangers by JutePP® per year as the starter. The global hanger market is enormous. Only in the USA, 85 billion hangers are imported every year most of them in polystyrene that needs to be exchanged with Jute fibre.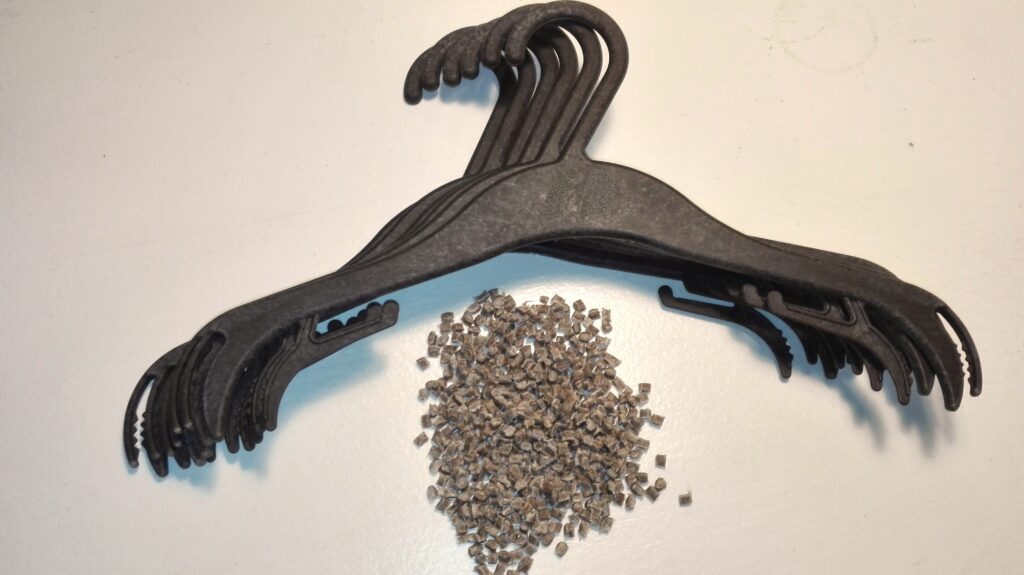 Juteborg initiated Farmer to Factory Jute Supply Chain™ (F2F™) in 2016 to drive sustainability and to supply high tech international businesses with certified and traceable Jute fibres – from the very seed, via fair price to the farmers, to end customers.
The F2F™ model is being validated by taking in more than 1200 farmers from Faridpur, the best Jute growing area in the world, with the local partner Razzaque Jute Industries Ltd.
The validation project gathered Jute farmers, Jute traders, Jute mill owners, development organizations, private actors, Jute enthusiasts, international actors and even the honourable Jute minister for the very first time in the history, to explore and discuss challenges and solutions of the Jute industry.
The climate change mitigation and adaptation are also in focus as well as increase the income of the Jute farmers. There are more than 4 million farmers are involved in Jute farming in Bangladesh, together with their families it is more than 20 million people. The validated F2F™ model has the potential to positively impact the lives of this large population base. For that Juteborg asks the concerned stakeholders in Bangladesh, both the public sector and development sector to extend their support.

Nordic Climate Facility (NCF), a Nordic challenge fund by a Helsinki, Finland based non-profit organisation named Nordic Development Fund is supporting the JutePP® production and validation of F2F™ project.
Juteborg has also replaced the glass fibres into jute fibres (JuteTech™) on the sandwich construction of the roof and back part of a pure electric vehicle; The JuteBee™ (a Zbee from Clean Motion). Now we have just started with to test marine applications and successfully tried out on a small sailing boat.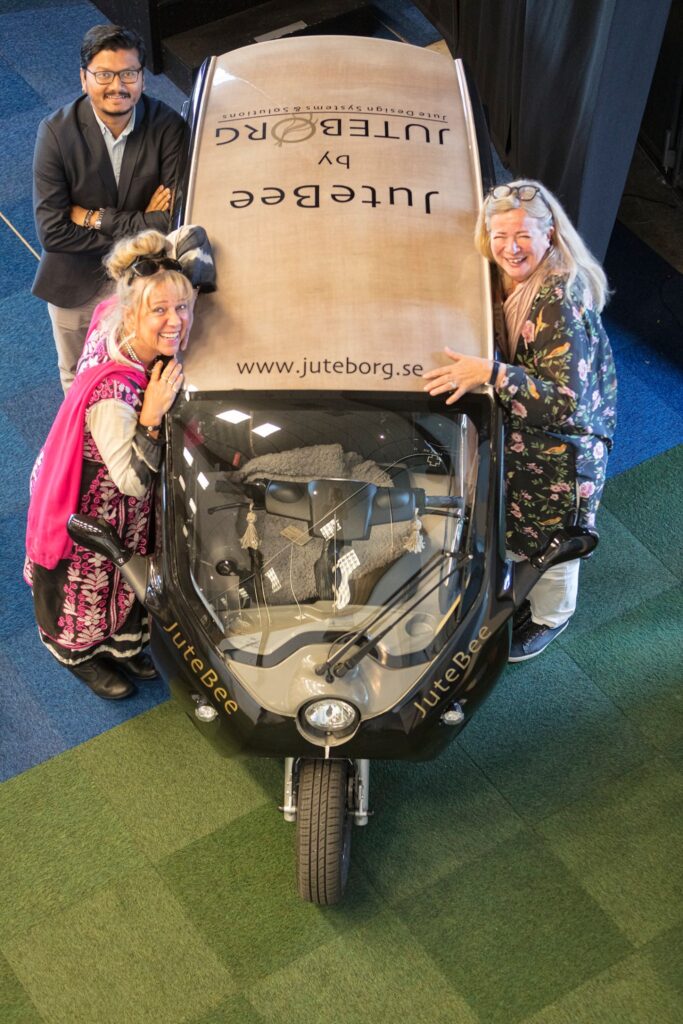 Juteborg has initiated a research project concerning JutePart™ a sustainable alternative to existing wood-based particleboard with organic glue by replacing formaldehyde (a poisonous chemical commonly used in existing particle board). It is based on Jute waste i.e. Jute stick chips and is almost 30% lighter than the wooden particle board which supports lower transportation cost, energy consumption as well as improving the working conditions. Kungliga Tekniska Högskolan (KTH Royal Institute of Technology, Stockholm) is the research partner who already made successful trials.
Juteborg has relentlessly been promoting Jute and Jute based innovation both in Bangladesh, Sweden and in other countries with the help of the appointed Jute Ambassador Magnus Rosen, one of the top ten bass guitarists in the world and its Social Media Ambassador Solaiman Shukhon.
Recently Juteborg was selected as one of the 20 European companies to showcase Jute based solutions as an important fossil-free solution in construction projects. The network is within the framework of Northern Connections – a European Union project. The City of Gothenburg, Sweden via Lokalförvaltningen will start a pilot of building a fossil-free pre-school named Hoppet, that will set the standard for future urban development in the city. Lokalförvaltningen has selected JutePart™, JutePP® and JuteLite™ (alternative for Microlite wallpaper of glass fibre) to be sustainable materials of the future.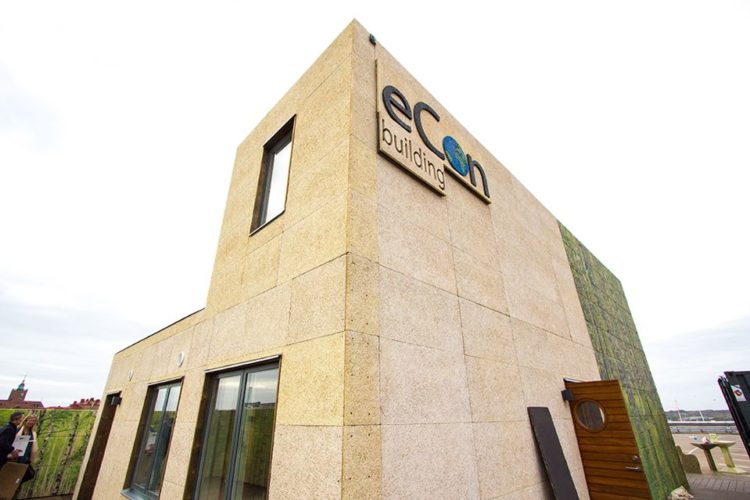 eCon DemoLab Affordable – Transportable – Sustainable housing units located on the top roof of Nordstan shopping centre in Gothenburg, Sweden, one of the largest shopping malls in Nordic countries. It is also the Nordic Centre of Jute to showcase Jute-based high tech materials, innovations and sustainable solutions.
A massive revolution and transformational journey by Jute has been initiated by the Swedish company Juteborg. With a focus in Bangladesh at the beginning, the company is determined to take the Jute from low valued products to high tech products through innovation. This business journey is also committed to giving back to society by being a key part of transforming the world into a sustainable living place.